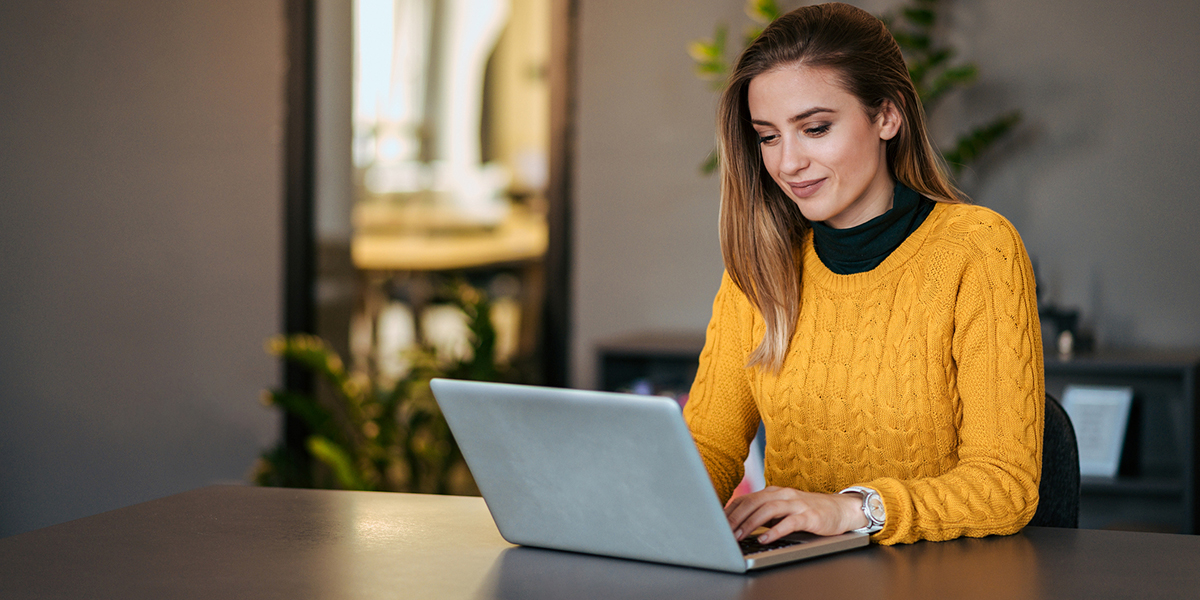 Cloud-Based Billing
Cloud-Based Utility Billing
Digital transformation has become top-of-mind for companies in virtually every industry, and cloud adoption is a key component in any digital transformation strategy. While your existing billing system might have worked well in the past, the rapid speed of technological advancement may make keeping up with tightening utility industry standards more challenging.
Leveraging cloud billing solutions can help you streamline your internal and customer-facing operations so you can boost productivity, save on overhead costs and prepare your organization for the future.
What Is Cloud Billing Software?
Cloud-based utility billing software is an application hosted on cloud servers and accessed via the internet. Cloud hosting involves remotely deploying your solutions on a network of connected physical and virtual servers, which makes cloud-based solutions flexible and dynamic.
Cloud-based invoicing software offers many of the same capabilities of traditional utility billing solutions, but it also adds functionalities like:
Loan management
Property tax billing
Field service orders
Customer notifications
Most programs are offered as multi-tiered subscription services, so you can choose the level of service that fits your organization's specific needs. Additionally, cloud-based solutions operate on a pay-as-you-go basis, which is a much lower upfront investment than most legacy systems.
What Are the Benefits of Cloud-Based Billing Software?
Cloud billing solutions can help enhance your organization's productivity and protect your bottom line. Some of the other top benefits of cloud-based software include:
Data security: Advanced cloud systems use highly effective security tools like multi-factor authentication, data encryption and automated backups. Plus, cloud systems store data on redundant external servers, so all your billing data is safe from external threats like theft and natural disasters.
Accessibility: The centralized cloud-based system allows employees to access and use billing data from anywhere, on any internet-connected device, allowing for exponential increases in productivity.
Ease of use: Cloud solutions centralize all your applications and data, so you can access everything from one streamlined interface. No need to switch back and forth between different apps to answer customer questions or generate invoices.
Visibility: A cloud-based billing system updates in real time and integrates with various other software programs, so you get full visibility into all your operations at any time.
Scalability: Cloud technology is flexible and dynamic, so your billing system can adapt to any time your organization's computing needs change.
Functionality: Cloud providers are constantly updating their billing systems with new efficiency-boosting features, which you can download as soon as they roll out. For example, Muni-Link offers a self-serve customer portal that enables customers to reach out online any time they need assistance, helping you provide more efficient customer service.
Efficiency: Workflow automation streamlines communication and eliminates redundant manual tasks, which dramatically reduces the time your employees spend on billing.
Versatility: Software integrations consolidate all your operations into one user-friendly platform, enabling you to take care of various functions without needing to constantly switch between programs.
Cost savings: When you invest in a cloud-based billing system, you only need to purchase one license for all the devices you plan to use, and you can use your existing hardware. Cloud solutions also eliminate the need to maintain on-premise computing infrastructure, allowing you to cut down on overhead costs and maximize your facility's floor space.
The main drawback to using cloud-based software is its dependence on internet connectivity. For example, if your connection goes down, you can't access your cloud resources until your connection is restored. Maintaining a local backup of all your cloud functions can help minimize losses in the event of an outage or other emergency.
Cloud vs. Traditional Billing Systems
While legacy billing systems and cloud-based solutions share the same purpose, they're quite different in how they achieve this purpose. Here are some of the most important differences between traditional and cloud-based billing software.
Traditional Billing Systems
Most traditional billing software requires a large upfront investment because it runs on local infrastructure. You need to purchase a license for each computer you install the program on, which may require you to purchase additional storage hardware just to accommodate the new software.
Further, when you need to scale your operations, you need to purchase additional infrastructure. However, you may not grow into your new storage space quickly enough to justify your investment.
Because legacy systems operate on local servers, you have limited accessibility and visibility. For example, when you need to double-check a recent invoice, you can only do so on the computer where it was created. To add to this frustration, many legacy systems are too hard to use for most employees, which can add to your costs and reduce your efficiency.
Cloud Billing Systems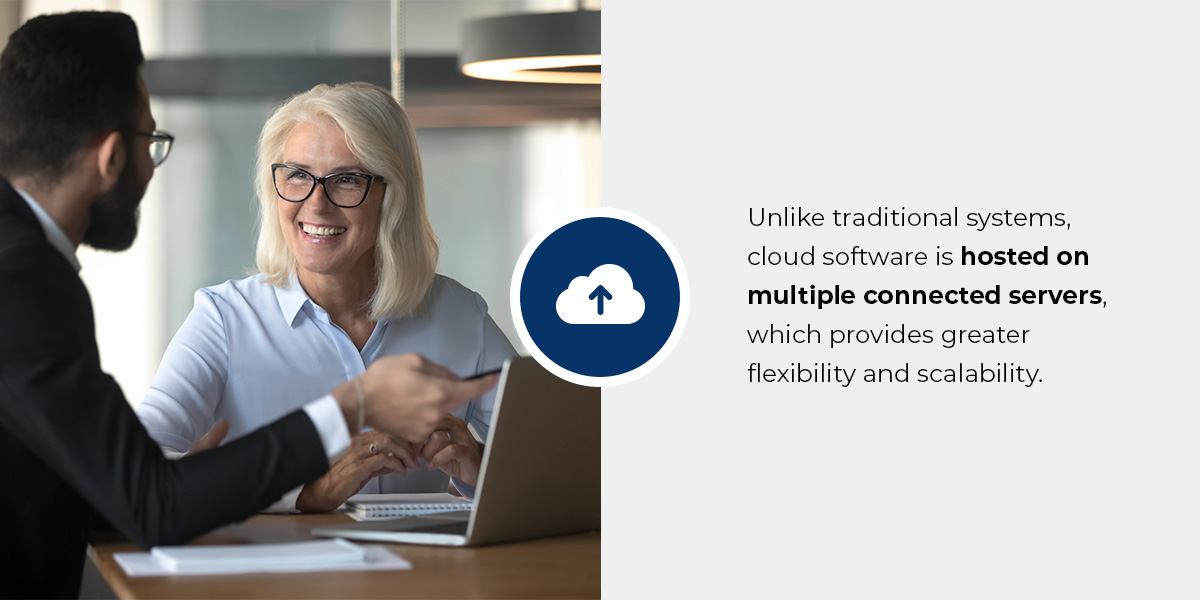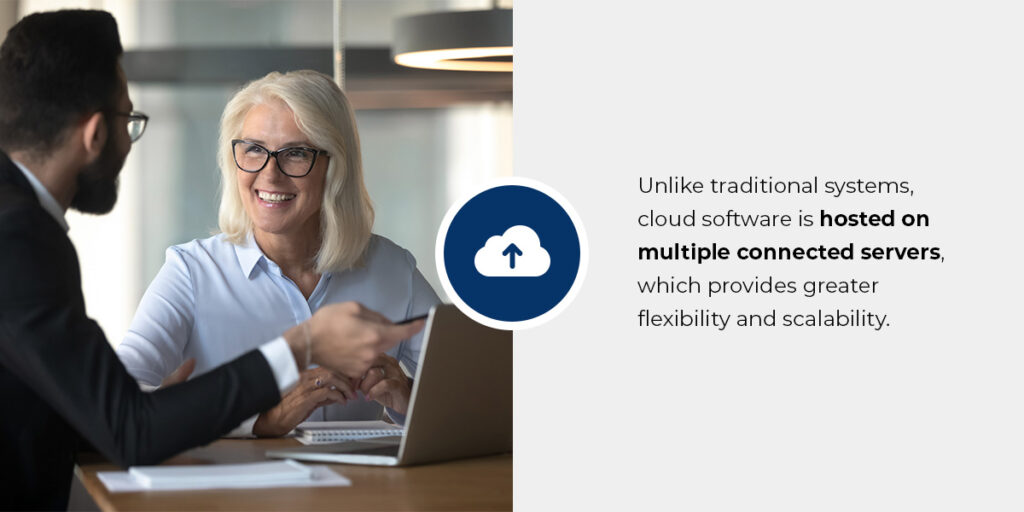 Cloud-based paperless software improves on the shortcomings of traditional billing systems by enabling greater accessibility at a fraction of the overall cost. Unlike traditional systems, cloud software is hosted on multiple connected servers, which provides greater flexibility and scalability.
Cloud-based software consolidates all your data into one unified interface, making it more user-friendly than most legacy systems. This ease of use helps boost productivity by lowering the technical barriers for your employees and reducing extra time spent switching between applications.
Cloud billing solutions are also more cost-efficient. As long as you choose a system that's compatible with your existing hardware, you don't need to make such a large investment in cloud technology. You only need to buy one license for your whole organization, and your employees can accomplish work from any approved device.
Additionally, most cloud-based billing systems require minimal maintenance outside of automated updates, which are usually included with the price of your subscription.
Applications for Cloud-Based Billing
Municipalities and local government agencies can use cloud-based billing software to easily bill customers for any utility service, including water, sewage, electricity and more.
Improving field service efficiency is a great example. Due to the connectivity of the cloud, your field workers can generate and send invoices from anywhere — even at the job site. Untethered accessibility combined with intelligent workflow automation enables more efficient invoicing and processing, and because they can edit customer data onsite, your field workers' documentation is more likely to be accurate.
Schedule a Live Demo With Muni-Link For Cloud Billing Solutions
The Muni-Link Utility Billing module is a fully integrated cloud-based paperless software designed by utility companies for utility companies.
Our user-friendly platform helps you manage billing, backflow inspection, field service orders and more, all from one centralized application. Plus, Muni-Link is constantly adding new features and functionalities based on user feedback, so you can adapt your business to meet the needs of the ever-evolving utility landscape.
Schedule a product demonstration today to see how Muni-Link Utility Billing simplifies billing and invoicing, or contact us online for more information.